January 3rd, 2016
Added another video to our "How To" videos explaining the site features of our Block Trades and Summary Pages

January 3rd, 2016
Added a Summary page to our block trades pages, showing a running time and sales of each ticker covered
January 3rd, 2016
Added the first of our "How To" videos explaining the site features of 3 pages

December 12, 2015
Added a Daily Internals page to track daily close readings of key market internals
November 24, 2015
Completed the first Block trades page, called Index ETFs by adding block transaction charts for QQQ and IWM etfs to the existing SPY chart. More to come shortly
November 20, 2015
Added the first Block Trades Chart page, SPY, under Equity ETFs
This is the first of a series of pages covering institutional sized Block Transactions covering a number of tickers and sectors. More to come shortly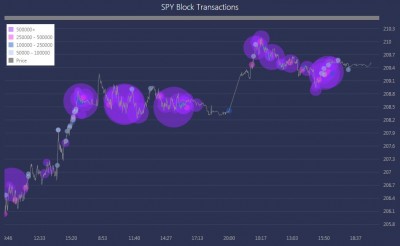 November 8, 2015
Added a Question Mark symbol to each page that allows a popup with an explanation of each page's charts and gauges.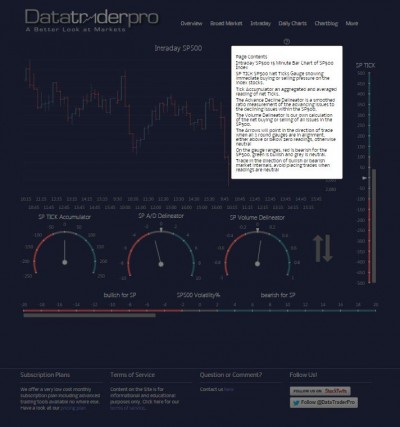 November 7, 2015
Added terms to the Knowledge Base page. This page will continue to be updated over the coming months
November 3, 2015
Added a What's New! Page, listing all our newest features and improvements. This page will be updated regularly and announcements for site updates and additions will be announced on our Chartblog page.
Oct 29, 2015
Created StockTwits and Twitter Streams page, where you can see our latest posts and comment/reply directly to them
Oct 15, 2015
Added Trend page and associated tools to the site
Sept 30, 2015
Added Market Heatmap to site, showing market internals, updated every 60 seconds in an easy to read format. See the undercurrent of the market at one glance!
February 19, 2015
Added Chartblog Feature, with daily at close updates free to public as well as intraday updates to subscribers